Venue, Maps, Parking
bstreetsmart
The Trauma Service Westmead Hospital
T 8890 7458
E enquiries@bstreetsmart.org
P.O. Box 533
Westmead NSW
Australia 2145
Qudos Bank Arena
The bstreetsmart event is held at Qudos Bank Arena (previously Allphones Arena) – Homebush. For schools attending the event by train you can download the following map for getting off the Sydney Olympic Park Train Satation as well as the Coach Parking Map.
For more information on how to get here you can visit the Sydney Olympic Park website.
If you need any additional information please see our Frequently Asked Questions section.
Sydney Olympic Park Map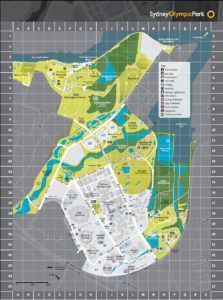 This map shows the greater area of Sydney Olympic Park and surrounding areas. It will show you the main arteries leading into the Olympic Park depending on which direction you are coming from. Access to Qudos Bank Arena (previously known as Allphones Arena) is via Olympic Boulevard. The main entrance is only a short walk from both the train station and the coach parking.
Coach Parking Map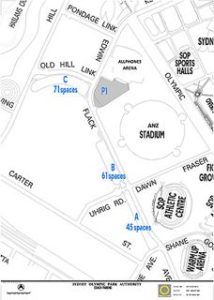 School bus/coach parking is located on Old Hill Link Road (off Edwin Flack Ave). There is parking for 71 buses here and is only a short walk to the main entrance of Qudos Bank Arena (previously Allphones Arena) on Olympic Boulevard.
Event level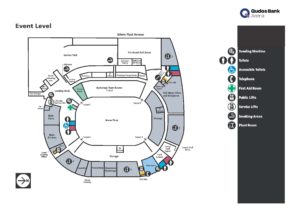 This map shows the event level where the crash scenario will be held. Interactive Displays will need to access this level on bump in day to deliver their displays.
Access to this by road is via Edwin Flack Ave and through security boom gates.
On other days, there are lifts operating to gain access to the event level.
Students are only allowed to access this level on event days during the interactive display period and only via the stairs down to the Arena floor. No students are allowed in the lifts (excepting students with a mobility problem)
Main Concourse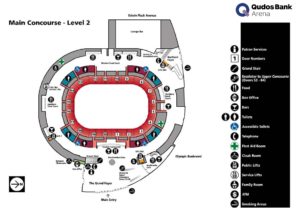 The main concourse is the level that both Interactive Stall holders and schools will access the arena from. Most of the Interactive Displays will be situated on the Main Concourse.
The external cloakroom is marked on the map (outside of the Grand Foyer). This is where Interactive Stall holders need to pick up IDs and get subsidised parking tickets from.
Club level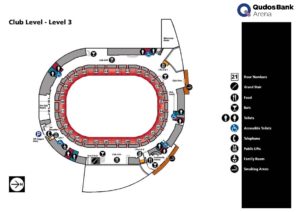 This map shows the Club Level of Qudos Bank Arena (previously Allphones Arena).Students will need to access the Club Level via stairs in the Grand Foyer to get to seating on this level.
While the Interactive Display part of the program is on, NO students are to be on this level.